Turkey-Chorizo Burgers with Creamy Guacamole
A recipe for juicy burgers made from a mixture of ground turkey and spicy Mexican chorizo, perfect for the grill, served up with extra creamy guacamole.
Who is grilling this weekend? With the holiday here, and summer of course, we're already grilling like crazy. Living in the Midwest means a shorter grilling season for us, so when we have it, we like to take advantage. When it comes to grilling, burgers are always at the top of the list.
You already know we make a lot of turkey burgers – see our Burgers Recipes and you'll see – but how about something a little different? Turkey-Chorizo Burgers. No, not turkey made into chorizo. I mean a combination of ground turkey and spicy Mexican chorizo. You'll get a full on blast of that awesome chorizo flavor, accompanied by our favorite ground turkey and plenty of seasonings mixed in, including jalapeno peppers, of course, which I am obviously MAD for. Jalapeno Madness, baby!
You can play around with the ratios of turkey to chorizo until you achieve your preferred mixture, but for me, it is pretty much 2 parts turkey to 1 part chorizo. Also, if you're daring like we are sometimes, swap in something hotter than a jalapeno pepper, like a few cayennes or maybe a habanero.
Ghost pepper, anyone? Carolina Reaper! Oh yes!
That would be crazy hot. Only if you can handle it. Have fun with your toppings. I melted some cheese over the top and served with roasted jalapeno pepper slices and homemade guacamole. Or, try this Extra Creamy Guacamole. Yum!
Patty's Perspective: I was very excited for these because I ordered a chorizo burger from a fancy restaurant on a recent vacation, but it was unclear that it was really a beef-chorizo burger with hardly any chorizo mixed in. You could barely taste chorizo! I found this combination of turkey and chorizo delicious.
And the guacamole rocked, as usual.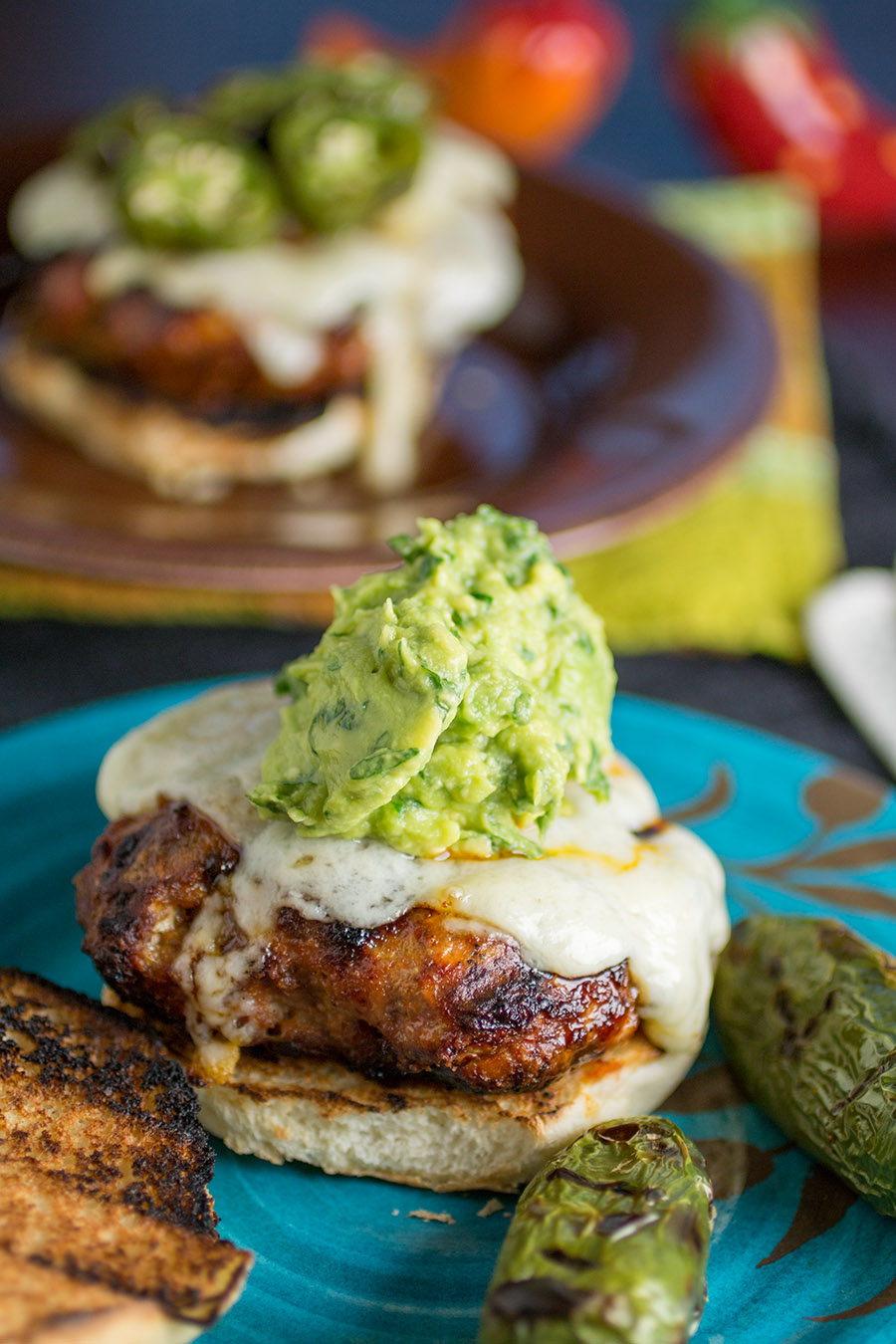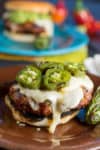 Turkey-Chorizo Burger - Recipe
A recipe for juicy burgers made from a mixture of ground turkey and spicy Mexican chorizo, perfect for the grill, served up with extra creamy guacamole.
Ingredients
24

ounces

ground turkey

12

ounces

ground chorizo

1

large onion

chopped

2

jalapeno peppers

chopped

Splash of olive oil

8

Cheddar cheese slices

8

toasted buns for serving

Any toppings you desire - like roasted jalapeno slices and homemade guacamole.
Instructions
Heat a pan to medium heat and add oil. Add onions and peppers and cook about 6 minutes, or until they are cooked through and soft.

Add to a large mixing bowl.

Add the turkey and chorizo and hand mix. Do not overmix.

Form into six 6 ounce patties, or eight 4.5 ounce patties. Or maybe four 9 ouncers! Go big or go home!

Heat a grill to medium heat and lightly oil.

Add the burgers and cook about 6-7 minutes per side, or until cooked through, depending on the size. Get your nice grill marks!

Top with cheese slices and cover. Cook about a minute to melt the cheese.

Serve on toasted buns with your favorite toppings. I used some guacamole, baby. And roasted jalapeno peppers, of course.
Recipe Notes
Heat Factor: Medium. Up the heat factor with a spicier, hotter chorizo and hotter peppers.
Calories are calculated without the guacamole.