Scoville Heat Units: 2,500 - 8,000 SHU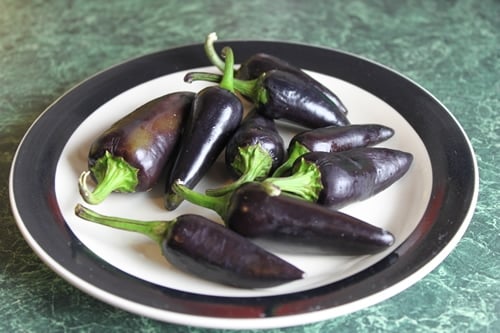 The Purple Jalapeno is a smaller ornamental version of the typical jalapeno pepper, characterized by its purple color. They are a hybrid pepper, created by crossing two different varieties of pepper plants. The purple color is a result of the genetic makeup of the pepper, and is not due to any sort of treatment or artificial coloring.
The purple jalapeno pepper plants are highly productive, with the peppers starting off green, then maturing to a dark purple color, which eventually turn deep red.
It is common for the plants to display all three colors simultaneously, making the plant a gorgeous addition to your garden. The plant is not only ornamental, however.
Purple Jalapeno Flavor
The purple jalapeno peppers are perfectly edible and delicious, and also as hot as a typical jalapeno pepper. They have a similar taste to green jalapeno peppers, with a slight sweetness and a moderate level of heat.
How Hot is a Purple Jalapeno Pepper?
Like typical jalapeno peppers, purple jalapeno peppers offer the same heat level with a Scoville rating of around 2,500-8,000 Scoville Heat Units (SHU). They can be used in a variety of dishes, such as salsas, sauces, and marinades, and also can be pickled or eaten fresh.
Purple jalapenos are also known to have high levels of Vitamin C and Vitamin A, which are important for a healthy diet. They are also low in calories and contain capsaicin, a compound that has been linked to health benefits such as reducing inflammation and aiding weight loss.
Purple jalapeno peppers are not as common as their green counterparts, and may be harder to find in some areas. They are generally considered a specialty pepper and can be found at farmers markets or gourmet food stores, or you can grow them yourself.
We also have many jalapeno pepper recipes here!