Heat Level: Mild-Medium
Capsicum Annuum
The Chilhuacle Amarillo is a Mexican chili pepper variety, part of a trio that also includes the Chilhuacle Negro (Brown) and the Chilhuacle Rojo (Red). Together they are an important part of Oaxacan cuisine, particularly mole sauces.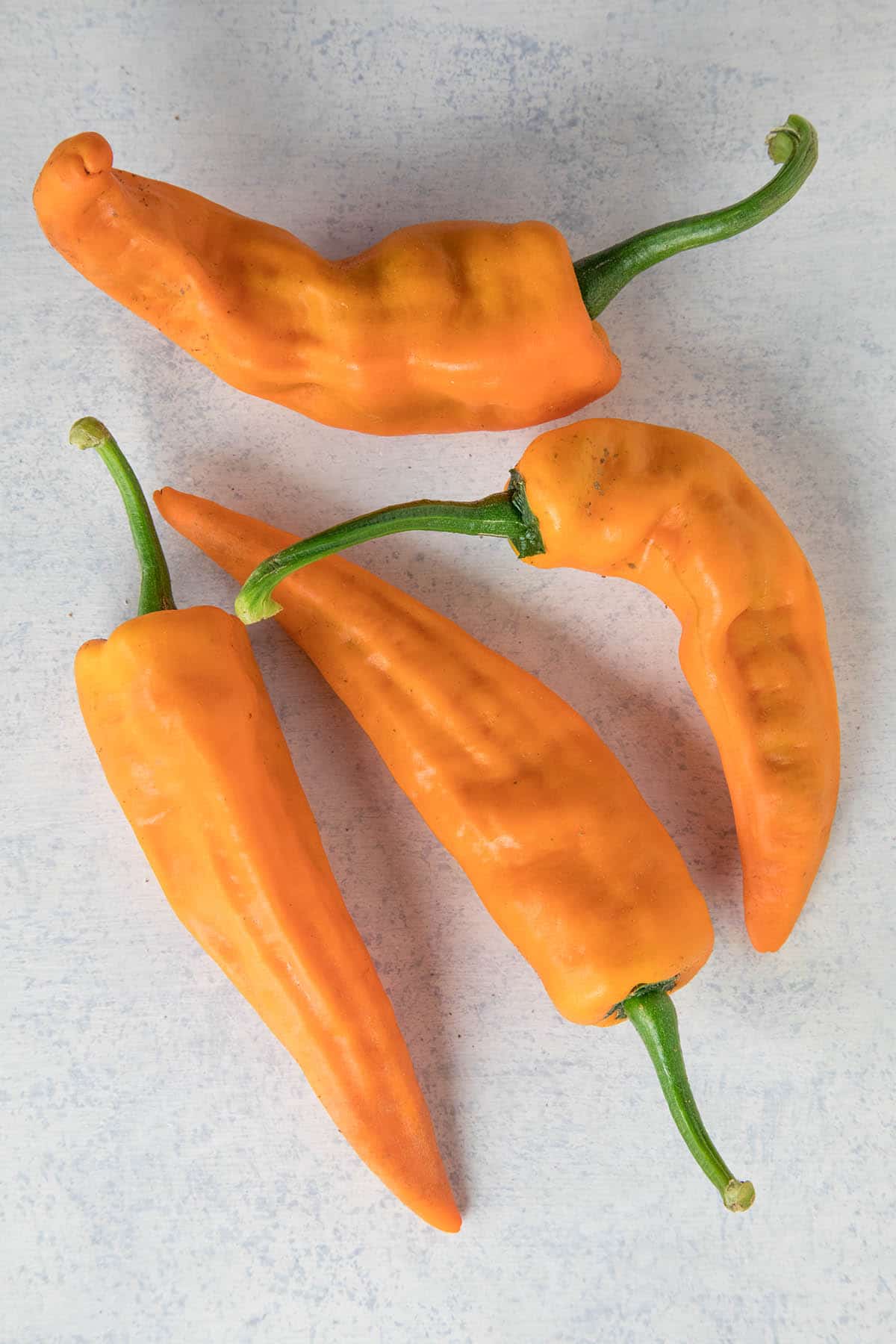 The peppers start out green, then ripen to a rich yellow or orange-yellow color.
This pepper grows in the Andes from Chile to Columbia, as well as in Central America and Mexico. It is also known as the" locoto pepper"through South America, or as the "rocote", or as the caballo or "horse" in Guatemala and some parts of Mexico.
Chilhuacle Amarillo Flavor
The pepper flesh is sweet and citrusy, with reported smoky undertones, though I didn't notice a smokiness with them. The flavor was fairly tart and sharp.
Heat Level
I haven't found any specific Scoville Heat Ratings with the Chilhuacle Amarillo, but by tasting it, I'd compare its heat to a jalapeno pepper, roughly 5,000 SHU, at least the ones I grew in my garden.
Eating
The Chilhuacle Amarillo peppers have a tough outer skin, so roast and peel them before cooking with them. You can also dehydrate them to make a nice yellow chili powder.
See How to Dehydrate Chili Peppers and make Chili Powders.
They are typically used in "mole amarillo" (yellow mole).
Growing Chilhuacle Amarillo Peppers
The Chilhuacle Amarillo chile plants grow up to 4 feet tall, though typically a couple feet. The pods are 2 to 3.5 inches long, and 1.5 inches across at the top.
It is a mid-season plant (70-80 days).