The Dorset Naga pepper is one of the hottest peppers in the world, ranging as high at 1.5 million Scoville Heat Units. It is originally from Bangladesh. Learn more about the pepper below.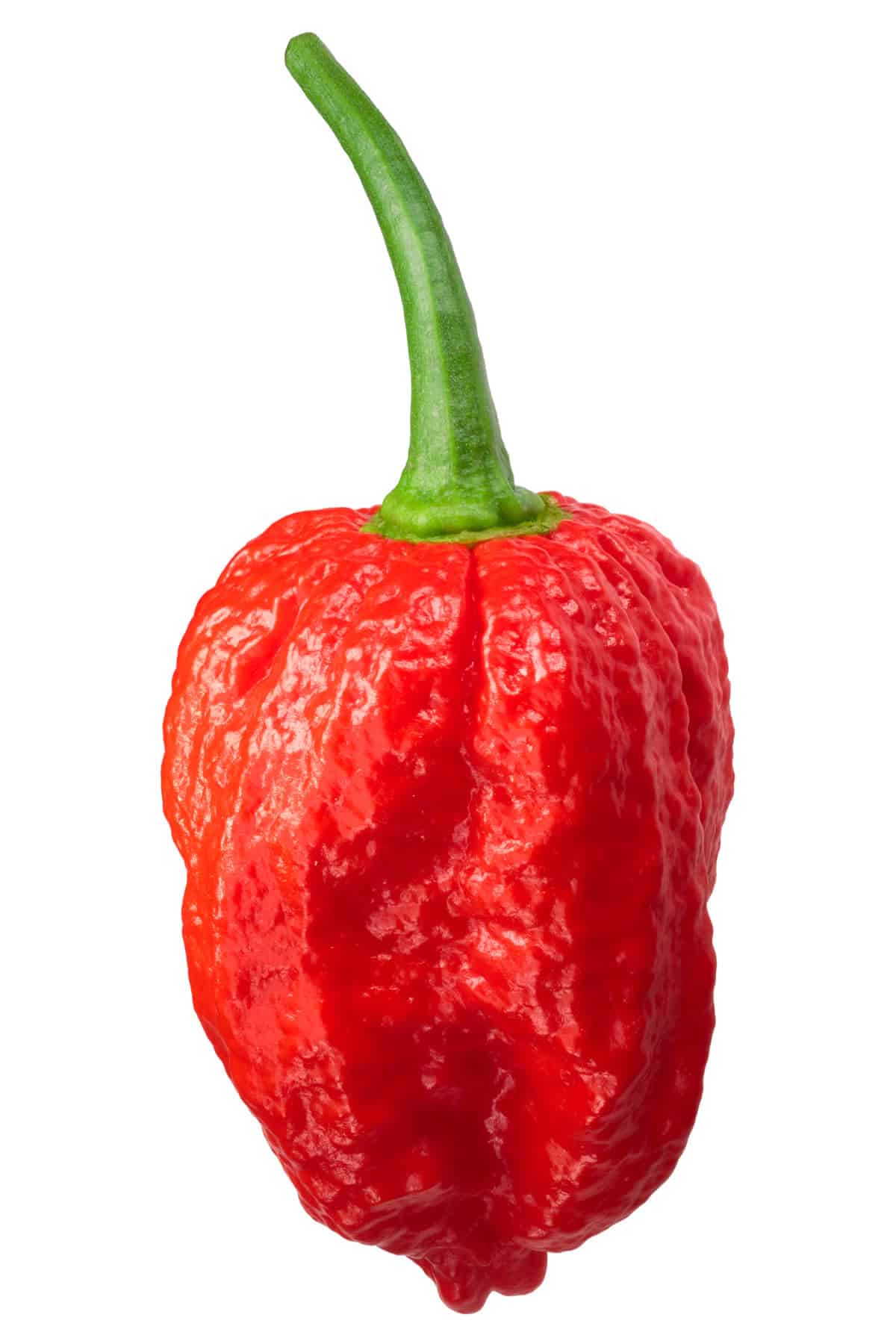 Scoville Heat Units: 1 million- 1.5 million SHU
Capsicum Chinense
If you're looking to experience the world of superhot chili peppers, the Dorset Naga is definitely one to add to your list to try. It is a massively hot chili pepper, easily passing the 1 Million Scoville Heat Units line, offering scorching heat and a pleasant fruity aroma.
Chiliheads around the world rejoice in their Nagas, as they are great for cooking into spicy soups and stews, but also for dehydrating for chili powder and for making crazy hot hot sauces.
Origins of the Dorset Naga Pepper
Development of the Dorset Naga began near Dorset, England, around 2001, when Joy and Michael Michaud of "Peppers by Post" bought a Naga Morich plant from an Oriental foods store in southern England.
The Naga Morich chili is from Bangladesh and is highly regarded in that community. Over several years they hand selected fruit with the specific characteristics they were looking for, and extracted seeds.
They planted those seeds and continued until they were satisfied with the result. Here we are today with the Dorset Naga, a pepper of distinctively high heat.
The Dorset Naga isn't extremely different from the original Naga Morich, tending toward smoother and thicker pepper walls, with similar heat levels and flavor.
How Hot is the Dorset Naga Pepper?
The heat level has been tested repeatedly since 2005 and has ranged from 661,451 Scoville Heat Units (SHU) on the Scoville Scale for green fruit up to 1,032,310 SHU for ripe fruit in 2009.
Another test has measured the heat level as high as 1,598,227 SHU, making it one of the hottest peppers in the world.
Compare this with a typical jalapeno pepper, which measures about 5,000 SHU, and you'll find the hottest Dorset Naga is about 300 times hotter. That is quite hot!
The current hottest pepper in the world is the Carolina Reaper, measuring in at over 2 Million Scoville Heat Units. The Dorset Naga isn't that far off, and is even hotter that the Ghost Pepper (Bhut Jolokia), another famous super hot chili pepper measuring in at around 1 Million SHU. Another comparable pepper is the Trinidad Moruga Scorpion.
Look and Flavor of the Dorset Naga
The fruit ripen from green to red and measure about 4-5 cm long, with finely wrinkled skin. It averages around 1 million plus Scoville Heat Units and has a fruity aroma and flavor.
Because the plant was developed from the Naga Morich, the Dorset Naga is technically a subspecies, but it has been recognized as a separate variety.
Cooking with Dorset Naga Peppers
It is imperative to respect the Dorset Naga for its awesome heat, but that is part of its allure. I personally enjoy dehydrating the pods for making my own chili powders and extra spicy seasoning blends. The pods also make wonderful hot sauce.
If you're going to make hot sauce with them, you can blend them in with milder peppers if you're looking for some of that heat without completely obliterating your taste buds. Of course for some, that wonderful heat is exactly what they're looking for. If you're looking for crazy heat, the Dorset Naga will certainly deliver.
TRY SOME OF THESE Superhot Chili RECIPES
Looking for Dorset Naga Seeds and Sauces?
These are affiliate links, my friends. Enjoy!
Got any questions? Contact me anytime. I'm happy to help.